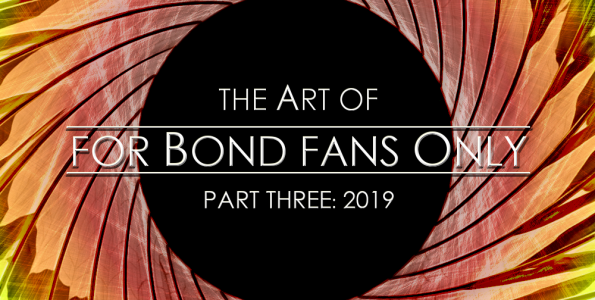 The art of FBFO: part three
Every month on the For Bond Fans Only Facebook group, members are asked to vote for a Bond-related topic/theme to celebrate and discuss in depth. For instance, FBFO may shine the spotlight on one of the actors, a specific film in the series, a character or a novel/short story, etc.
Anything is up for suggestion, by any member... but there is a twist. You see, FBFO has an affectionate streak of sardonic humour running throughout it, very much like Bond himself, so there is only one caveat: all suggestions have to be pun-tastic! This is demonstrated by the gems (and groaners) below.
Since late 2016, I've been asked to produce the artwork banner images for these monthly, pun-embracing, celebrations. Collated below are my designs for the twelve months of 2018. Enjoy.
January 2019: "Pramuary"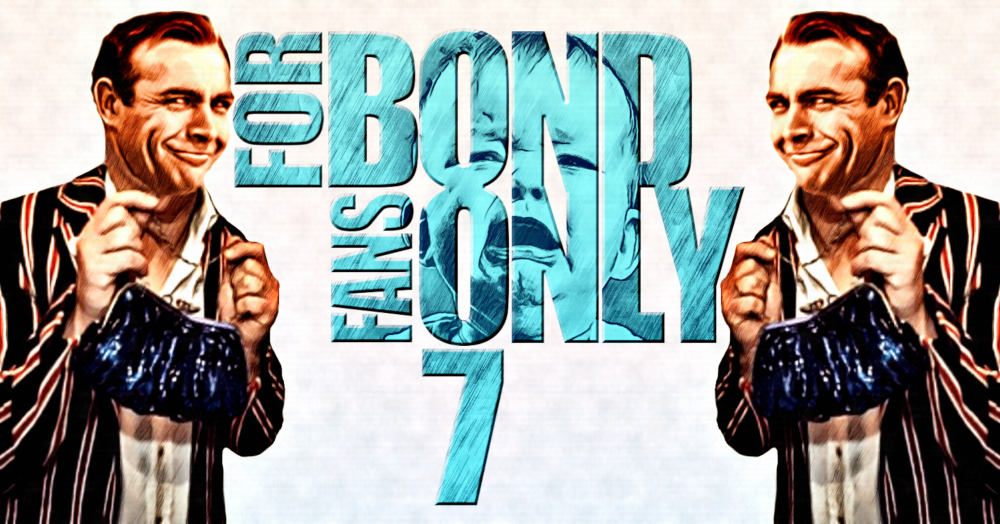 Theme: a tongue-in-cheek appreciation of FBFO group members who, in a fit of pique, exit the group with one final throwing-toys-out-the-pram post. With visual inspiration from the great Vic Reeves!
February 2019: "Femmeuary"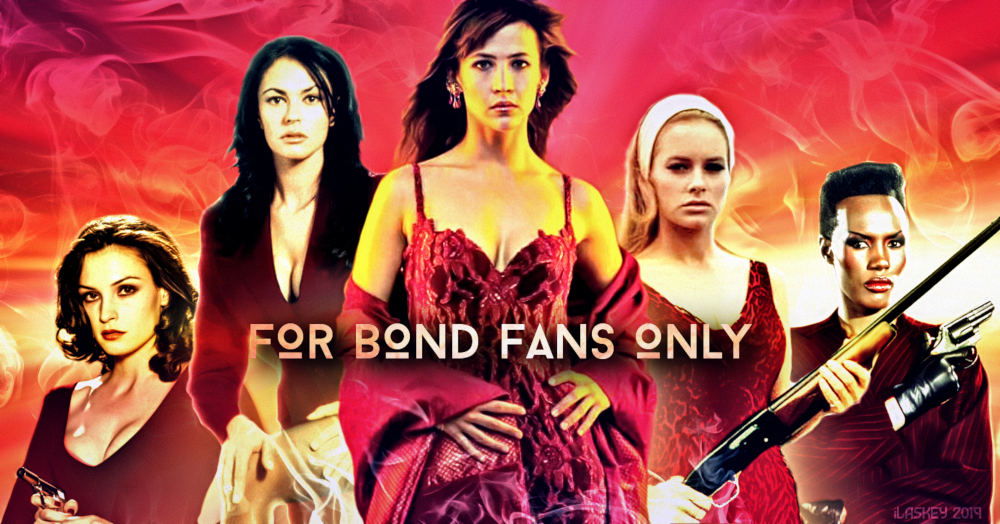 Theme: the beautiful but deadly femme-fatales of the Bond films get their own appreciation month: Femmuary. This was a nice opportunity to put one of my favourite Bond villains —Elektra King — front and centre.
March 2019: "SpaceMarch"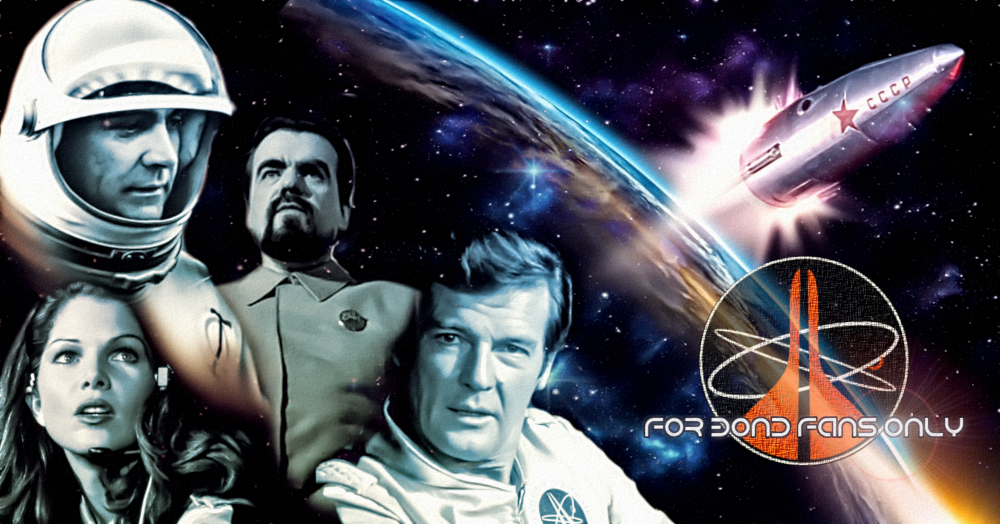 Theme: referencing one of John Barry's most iconic music cues, SpaceMarch was a celebration of Bond's celestrial adventures. As a fan of sci-fi films and art since my earliest childhood, I had a blast creating an out-of-this-world banner, which remains one of my favourite designs.
April 2019: "Apparil"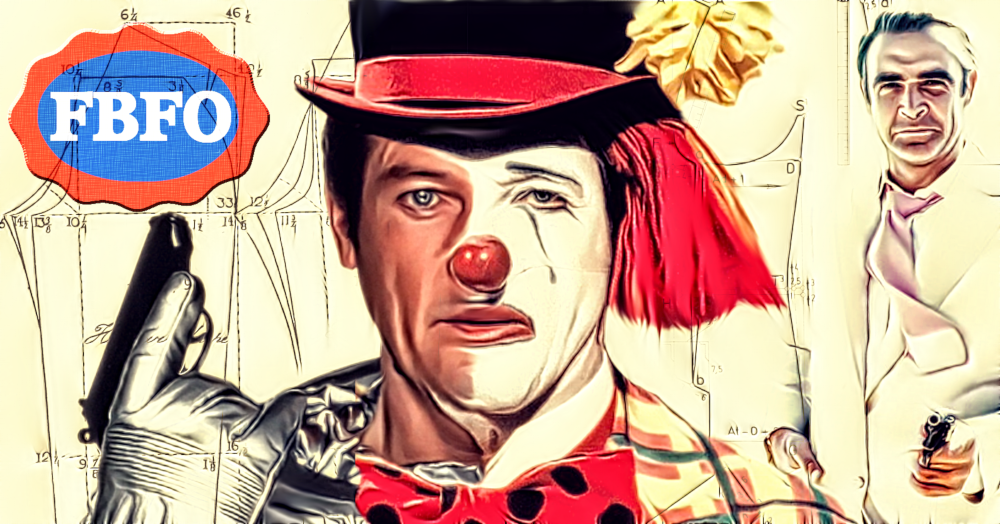 Theme: a look at the sartorial tastes of Bond (Apparil/April/Apparel, geddit?!) We all know that Bond is the snazziest dresser in the room, so the idea of featuring him in a tuxedo or well-tailoured suit seemed dull to me. So I decided to focus on his more outlandish clothing choices. And any Brits of a certain age will recognise the nod to a certain high street store's logo...
May 2019: "Miss Mayneypenny"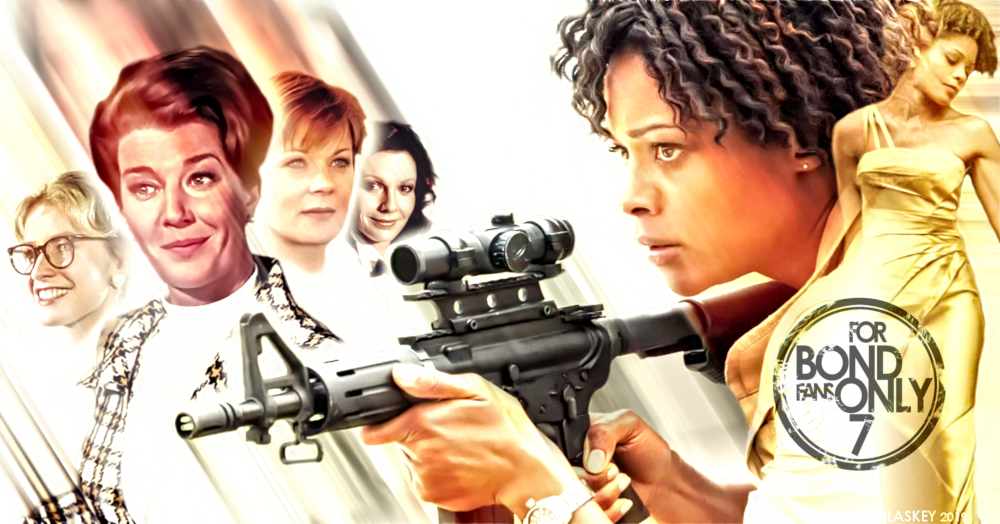 Theme: an iconic recurring character, and one of Bond's favourite flirtations (will they, won't they?), May was a celebration of the inimitable Miss Moneypenny. I wanted to include all representations of the character, showcasing the great actresses who have played the role, while also highlighting the most recent evolution of the character into a woman with more agency.
June 2019: "Loon"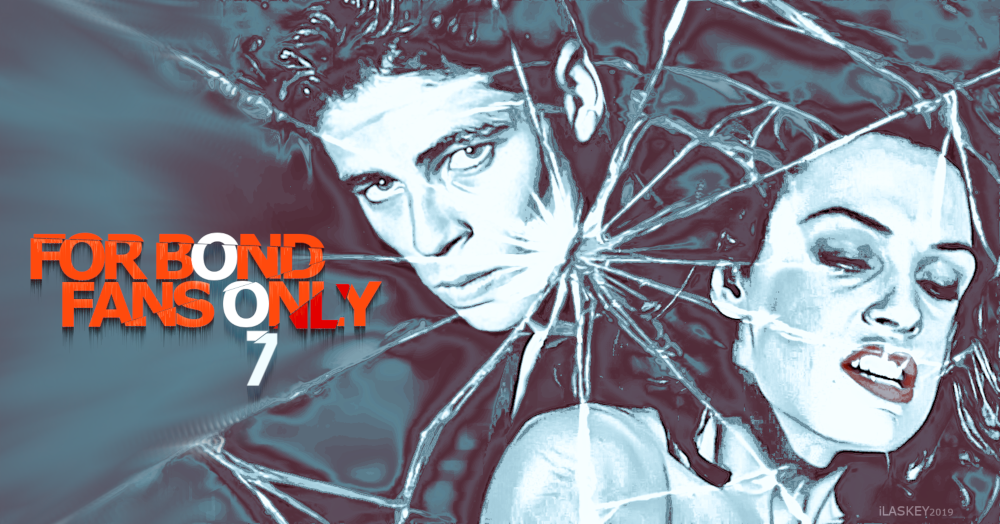 Theme: a celebration of the truly psychotic lunatics of the Bond series. When drawing inspiration for this banner, I immediately thought of the genuinely unhinged Dario and Onatopp. And, taking inspiration from the later's penchant for sexually-charged murder, I decided to create a pseudo '80s/'90s erotic psycho-thriller poster. The logo is a little nod to Saul Bass' work on the legendary Psycho.
July 2019: "JuLicenceToKill"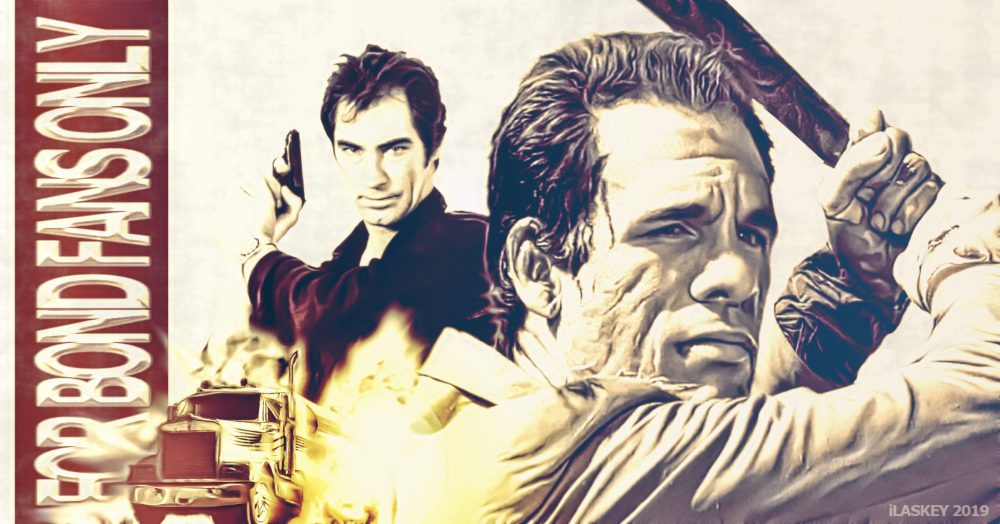 Theme: Timothy Daltons second (and, sadly, final) outing as 007 became this month's focus; the gritty, and divisive, Licence to Kill. I must confess, this is one of my least favourite Bond films, so I found inspiration for this a struggle (and, if I'm honest, I think it shows in the final piece). So I tried to create something punchy and retro, focusing on three elements I did enjoy: Dalton, Davi, and the tanker chase.
August 2019: "Brawlgust"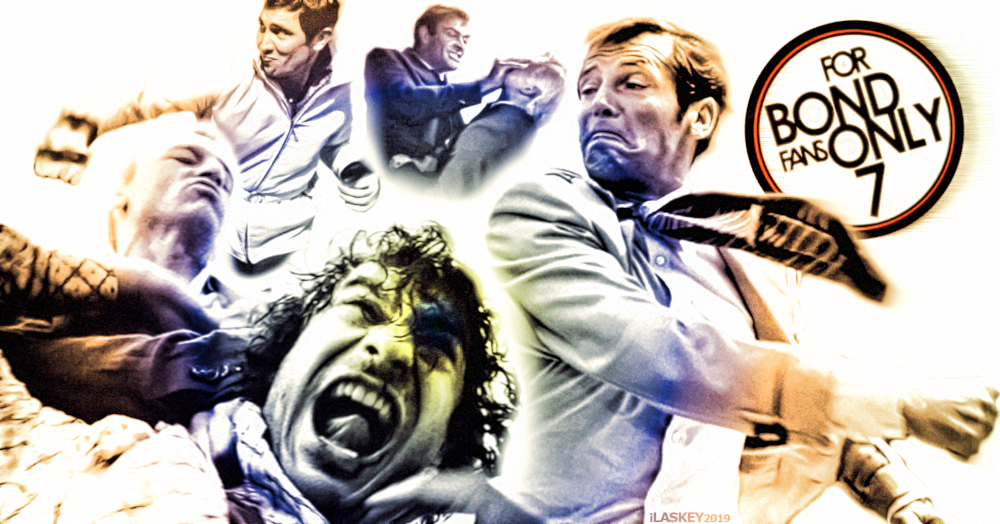 Theme: our James loves a good punch-up, so August became a celebration of big bad brawling Bond. It was a fun opportunity to highlight some truly inspired facial gurning!
September 2019: "PTSeptember"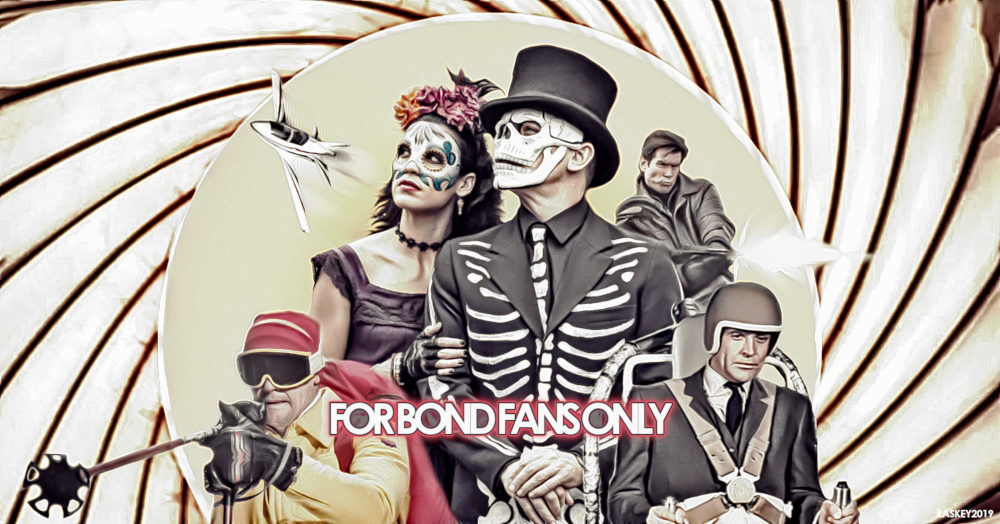 Theme: one of the most iconic elements of Bond films are their explosive pre-title sequences which are often mini-movies in and of themselves. September found FBFO applauding these stunt filled spectacles. Having been unhappy with my previous two banners, I found greater inspiration with this month's topic and spent more time crafting this design. Of all the banners I created for FBFO this is the one I'm proudest of.
October 2019: "Octoyber"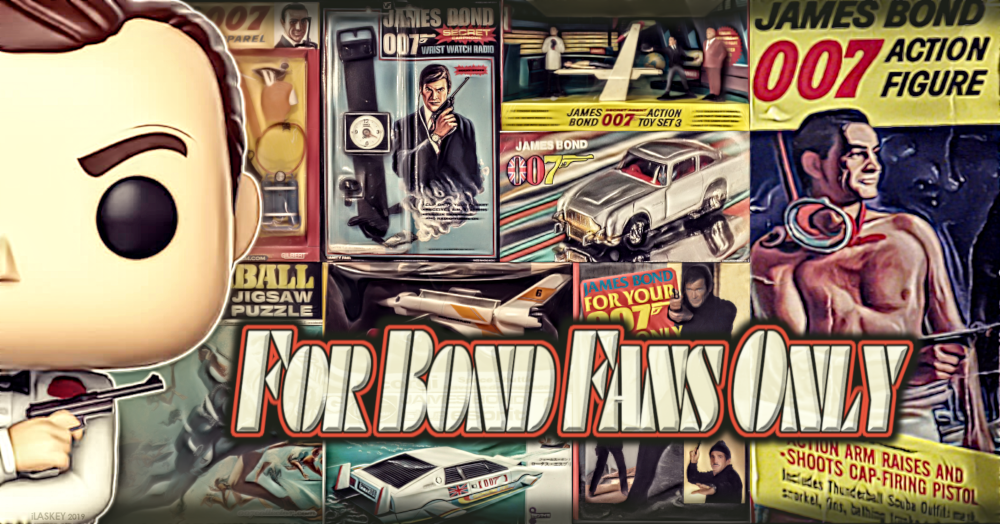 Theme: for the collectors out there, October was a celebration of all the merchandise, toys, and ephemera that the world of Bond has generated. I wanted to feature products spanning the decades of Bond-mania, and the logo design was a nod to the titles from Tomorrow Never Dies and the then newly announced No Time To Die.
November 2019: "November Say November Again"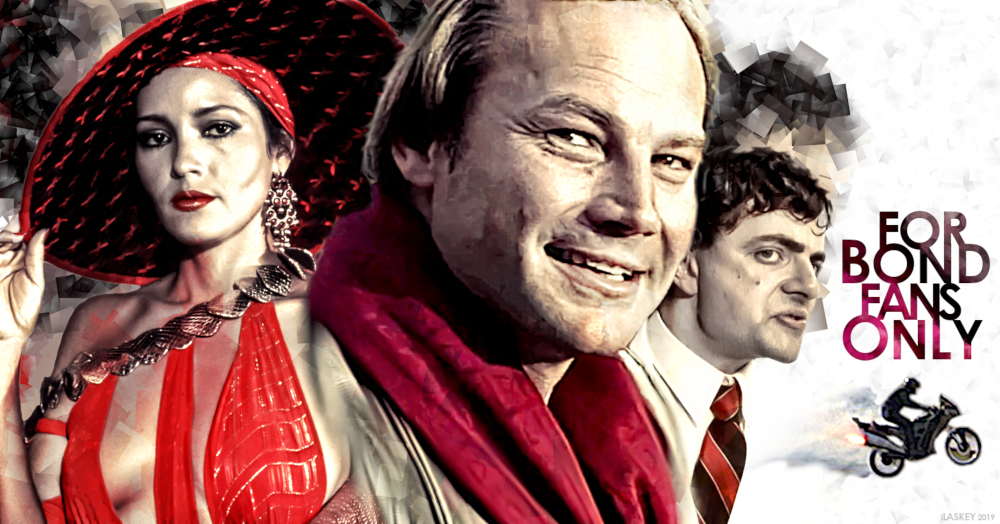 Theme: perhaps the most devisive Bond film ever made is the rogue/unofficial Never Say Never Again. With it's mission to embrace all things Bond, FBFO spent November 2019 discussing Sean Connery's final appearance as the world's most famous secret agent — despite the protestations in some quarters! Personally, I fall into that small camp who enjoy this film, and I particularly love Barbara Carrera and Klaus Maria Brandauer who I chose to put front and centre of this banner.
December 2019: "DecemBeretta"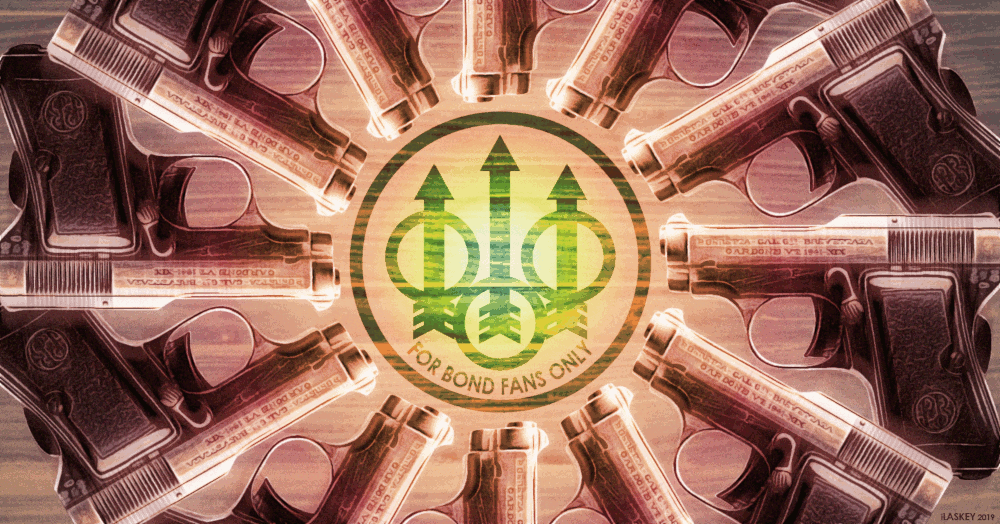 Theme: the Beretta. Initially I struggled with a design for this month's topic — how could I make a handgun interesting, beyond just pasting a simple image of one? Inspiration finally came when I discovered Beretta's circular logo, which lead me to this this slightly absract collage. I also drew inspiration from the cover designs to Ian Fleming and John Gardner hardback editions. I'm very fond of this banner, and felt it was a great way to end the year.
January 2020: "Janulairy"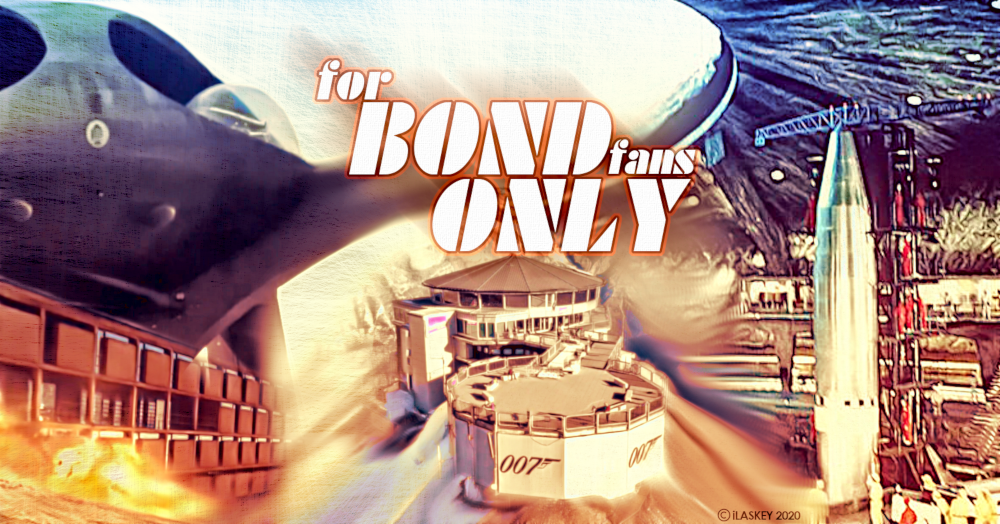 Theme: a good Bond villain has to have a memorable lair, and at the beginning of 2020 FBFO paid respect to those architetural wonders (and the talented designers and craftspeople who made them). These bases truly represent the breathtaking scale and imagination of the Bond series.
The future of FBFO art
One of the great strengths of the Bond series, and the secret to its longevity, is how, every few years, it refreshes and reinvents itself. By bringing in new talent and ideas, it keeps itself from going stale.
As such, by January 2020, I realised it was time to hand over to a new designer. Having created banners since the end of 2016, it felt the right time to hand over the reins to someone new before I ran out of ideas.
It was a real pleasure creating art for this great fan forum, and I appreciated all the kind words my works received. Thank you to all who enjoyed, and encouraged, my art.
iLaskey
Life long film fan, dark fiction writer, electronic musician and digital artist.