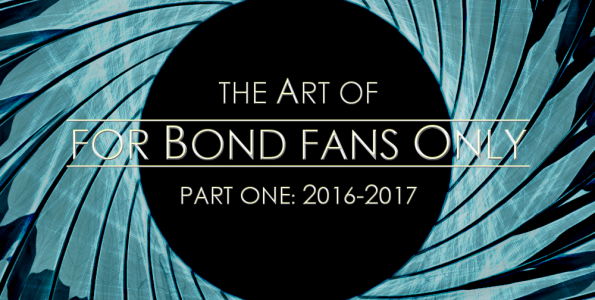 The art of FBFO: part one
Every month on the For Bond Fans Only Facebook group, members are asked to vote for a Bond-related topic/theme to celebrate and discuss in depth. For instance, FBFO may shine the spotlight on one of the actors, or a specific film in the series, a character or a novel/short story, etc.
Anything is up for suggestion, by any member... but there is a twist. You see, FBFO has an affectionate streak of sardonic humour running throughout it, very much like Bond himself, so there is only one caveat: all suggestions have to be pun-tastic! This is demonstrated by the gems (and groaners) below.
Since late 2016, I've been asked to produce the artwork banner images for these monthly, pun-embracing, celebrations. Collated below are my designs from 2016–2017.
December 2016: "Daltember"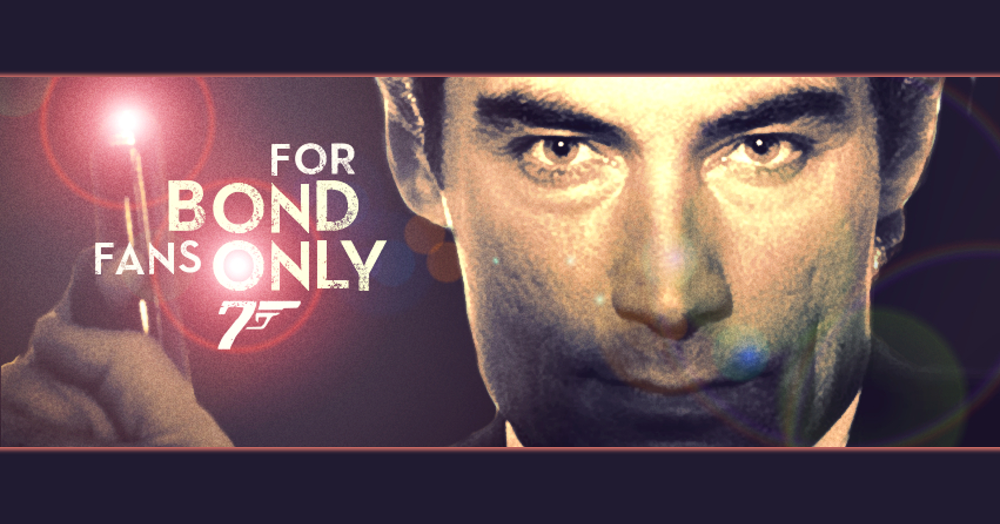 The first of my commissioned designs, and one of the gentler puns, this is very much me learning the design ropes. Dalton is blessed with an intense, brooding stare, so a simple close-up portrait was effective enough. However, for me, the most important element here is the embryonic beginnings of the FBFO title/logo.
January 2017: "Danuary"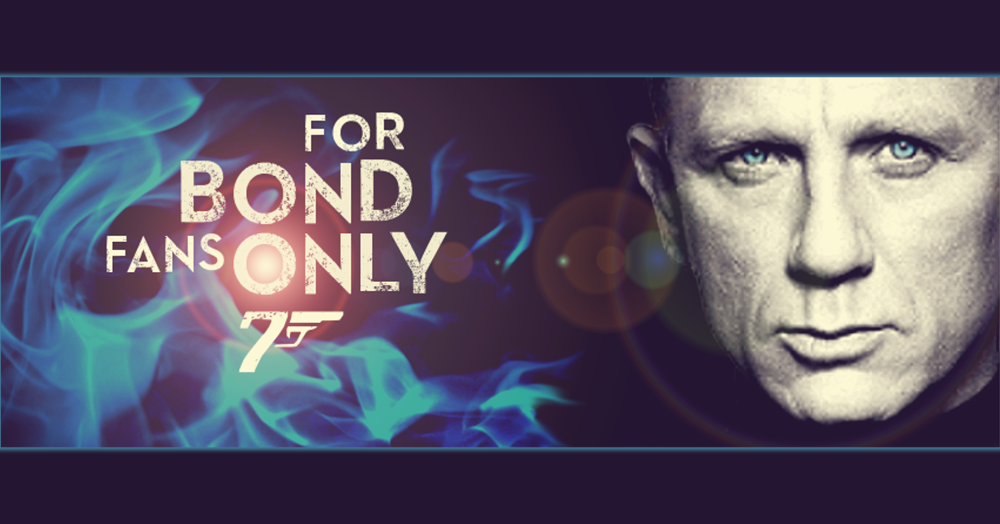 Very much in a similar vein to the previous month. I again chose to focus on an intense portrait of the star, Daniel Craig, with particular attention on his striking blue eyes (which I further emphasised through the use of blue flames — very Maurice Binder-esque!)
February 2017: "FebruBarry"
Like many film and music lovers, I am a colossal fan of John Barry. I was lucky enough to see him conduct live, and it was a concert I'll never forget. Being such a hero, it was important to me to do this great man justice when FBFO celebrated his timeless work. I wanted to create something cool and retro, reflecting the smokey moodiness of a jazz club. I also wanted to celebrate his musicianship, hence the early trumpet playing portrait. Colour adjusting monochrome images gave this design a wonderfully aged, desaturated look.
March 2017: "M-arch"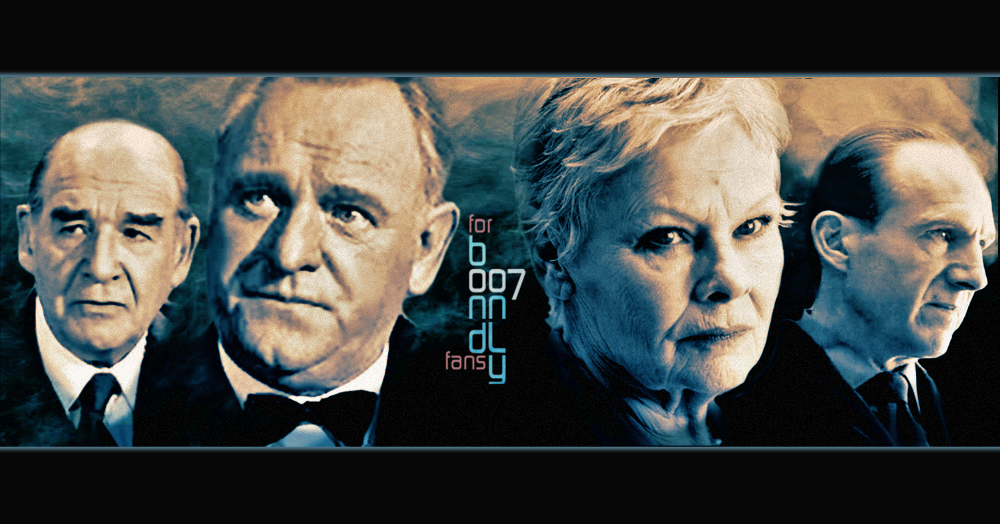 This was the first month to celebrate one of the great recurring characters — Bond's formidable boss, 'M'. It was important to me to feature all the main actors who've portrayed this iconic character (at least in the Eon series), creating this nicely balanced portrait that also had some gravitas. I took some artistic licence to highlight my two favourite performances (Dench and Lee), and I experimented with a modernist, "vertical" version of the FBFO logo (which I rather like).
April 2017: "A View to April"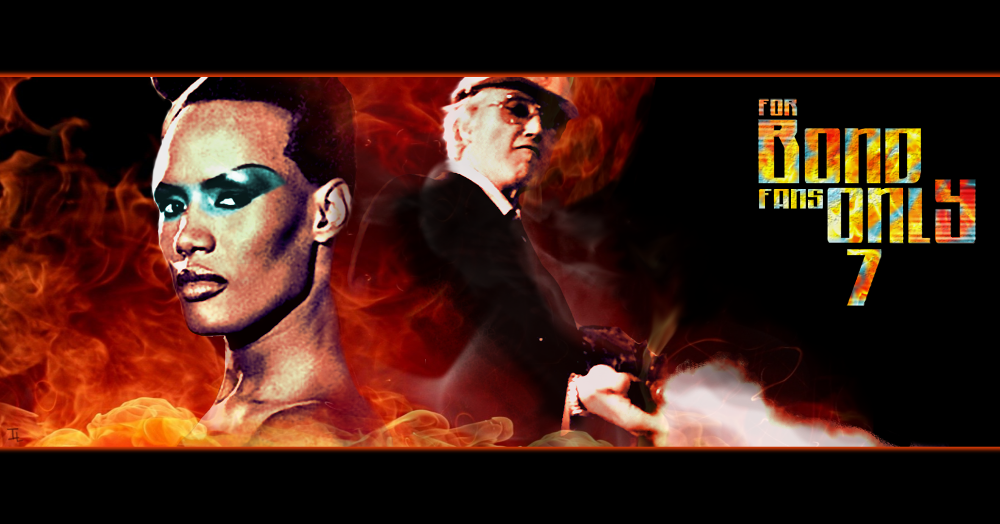 When I was asked to produce an image celebrating A View To A Kill, my mind immediately went to one character: May Day! I've been a fan of the wonderfully eccentric Grace Jones since my 80s childhood, and she remains the most striking element of a film that, if I'm honest, is rather bland. So she had to be the centrepiece to my art piece. And if you have May Day, you've got to feature her boss/lover too, the maniacal Max Zorin, and what better image than his infamous machine-gun pose? Scorching red flames were added to heighten the murderous fury, and I love the colour palette of this piece. One of my favourite designs.
May 2017: "The Living Maylights"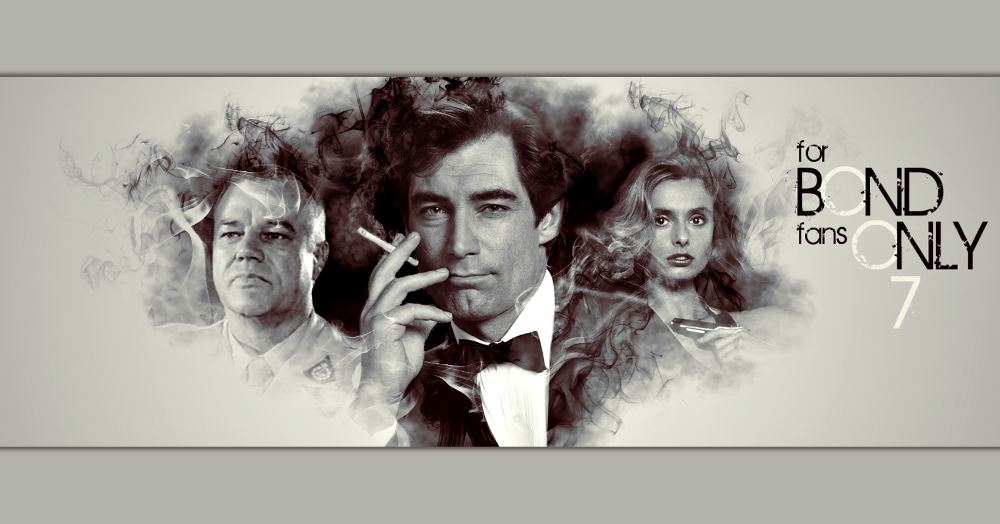 The Living Daylights is one of my favourite Bond films. When I was asked to design a banner inspired by it, I decided to make something more serious and moody (reflecting the more grounded tone of this film). When I found a publicity still of an elegant Dalton with cigarette in hand, reminding me of a Golden Age Hollywood matinee idol, I decided to create an image with a film-noir vibe. I took the cigarette as a natural prop. I emphasised swirling smoke to create an almost abstract image — with our three characters enigmatically drifting in and out of the vapour — and reduced it to grainy monochrome. I'm very happy with the result.
June 2017: "Juneraker"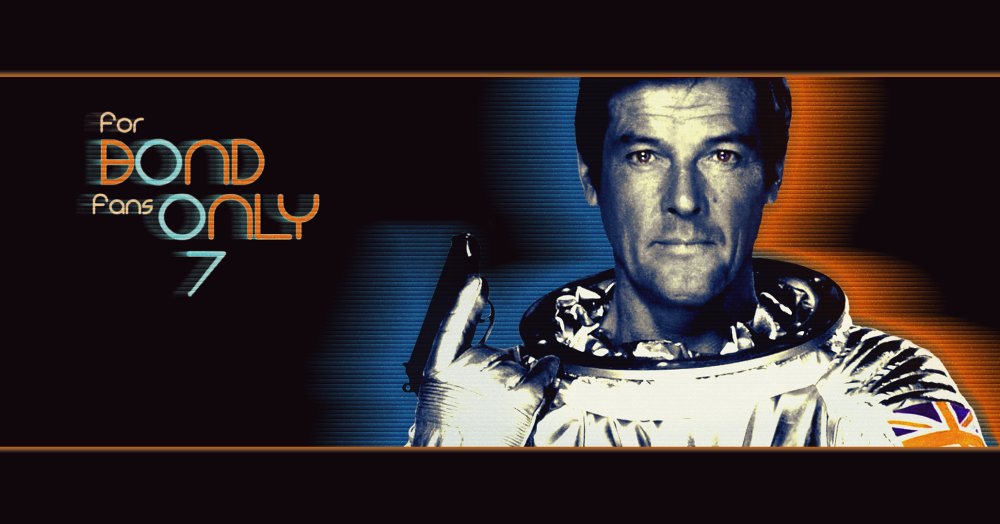 Oh, what a pun! I had originally wanted to use an image of the Moonraker space shuttle as the centrepiece of this design. However, the moment I happened upon this glorious publicity photo of Roger Moore in a shiny spacesuit — Union Flag proudly emblazoned on shoulder-patch — I knew this was the image to use. Could anyone else look this cool and suave while wearing something so cumbersome?! Adding some neon lines, in tribute to Binder's title designs for the film, only enhanced the 70's campness of this film's celebration. Disco-tastic!
July 2017: "July Who Loved Me"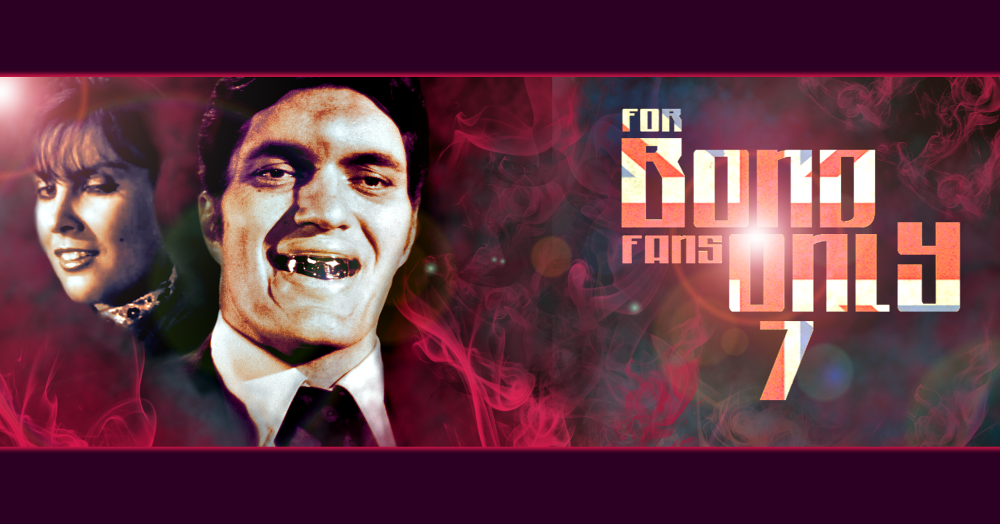 When I'm asked to design a banner celebrating a specific film, I try to feature the most memorable characters. And when it comes to Bond films, very few characters are as memorable as the pantheon of colourful henchmen/woman. The Spy Who Loved Me features two fan favourites: the sultry (and murderous) Naomi, and the truly iconic Jaws! It was a no-brainer to focus on this deadly duo! This was also the birth of the Union Flag FBFO logo (inspired by Bond's parachute).
August 2017: "Augussht"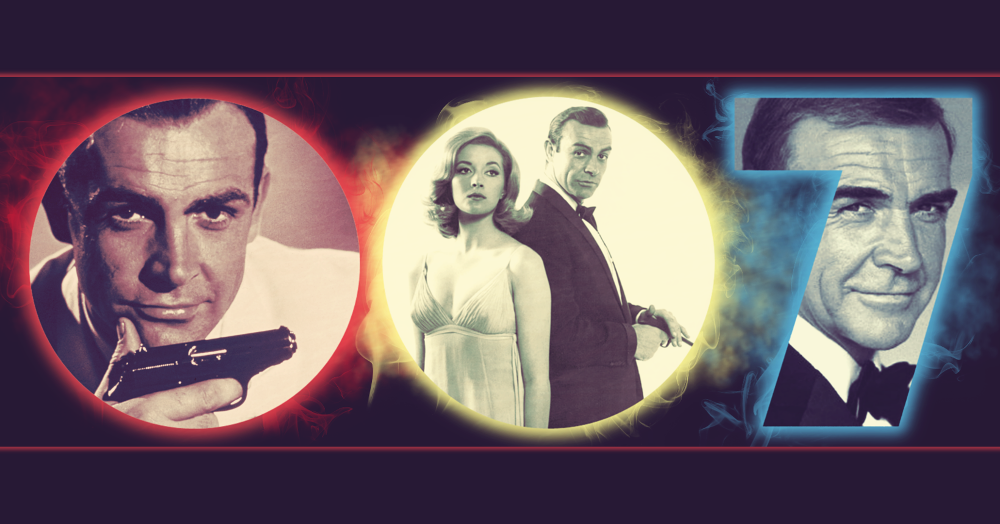 A month celebrating the actor most iconically connected to the role of Bond, and one of Britain's most famous film stars should have been a huge source of inspiration for me. But, sometimes, that little artistic flame inside never quite ignites. Which is my long-winded way of admitting that I'm not too fond of this design. I wanted to be minimalist with the prefix of '007' as the centrepiece. Still, I didn't crack a way to use that interestingly. Sometimes, you start with an idea that never quite works but don't have the time to begin again, and this is one of those occasions.
September 2017: "Spectember"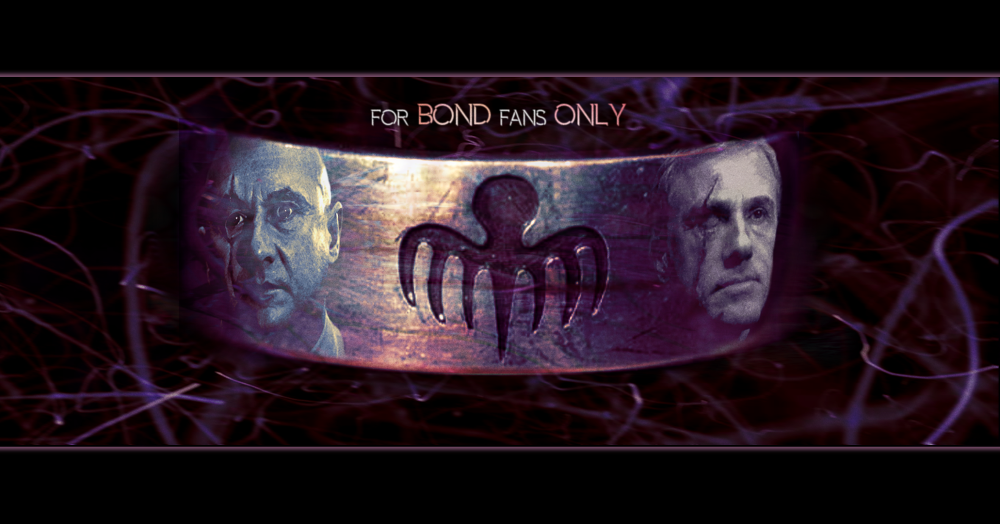 When I was asked to create a SPECTRE themed banner, I immediately thought of the sinister organisation's tentacled logo. And what better way to highlight that than via the ring that features so heavily in the recent film, SPECTRE? My original intention was to feature all the major screen Blofelds reflected in the metal, including Telly Savalas, Charles Gray, and Max Von Sydow. However, the image became too crowded but, luckily, there was a nice symmetry to only using Pleasance and Waltz, especially with their near-identical facial scarring.
October 2017: "Octoberpussy"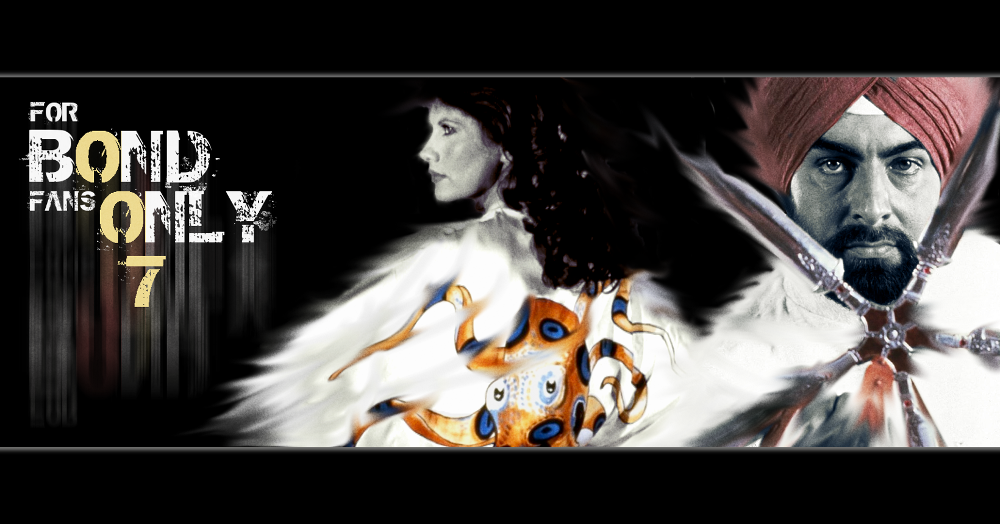 This is one of my favourite designs. I think it's a really nicely balanced image. To me, a banner celebrating Octopussy had to feature Maud Adams as the titular character, but I also wanted to showcase the menacing henchman Gobinda (Kabir Bedi). By desaturating the image I was able to highlight the Octopussy design on Adams' attire which really made it pop — a nice visual reference to Fleming's original short story. Only thing is, I wasn't especially happy with was the FBFO logo (I think the image worked better without it).
November 2017: "DrNovember"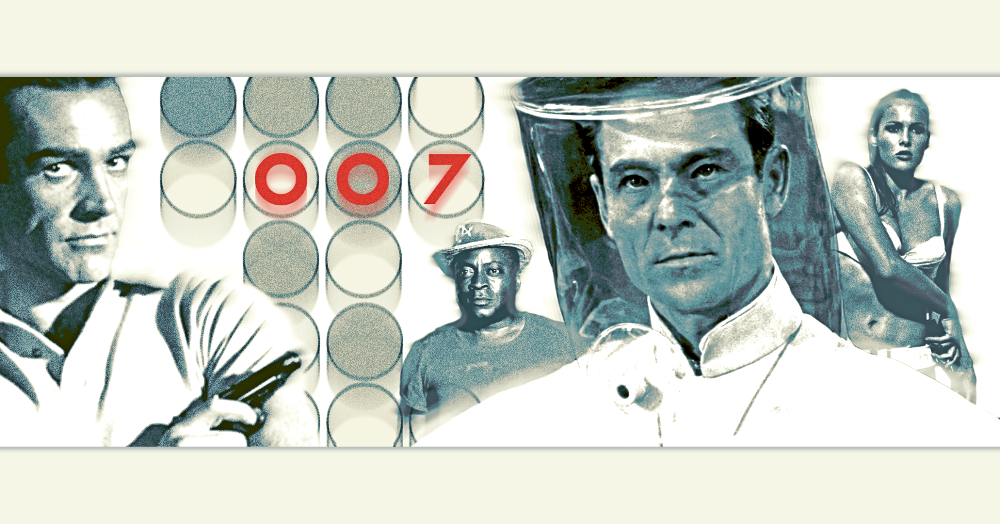 Maurice Binder's legendary pop-art title sequence for Dr No was the inspiration for this banner: it started with those groovy circles and evolved from there. Having been on a dark background kick for several of the preceding banners, I was also in the mood for something brighter, and this led to a more graphic/comic book feel. A simple design, but one I hope captures a fraction of the film's cool and trend-setting 60s vibe.
December 2017: "On Her Majesty's Secret Santa"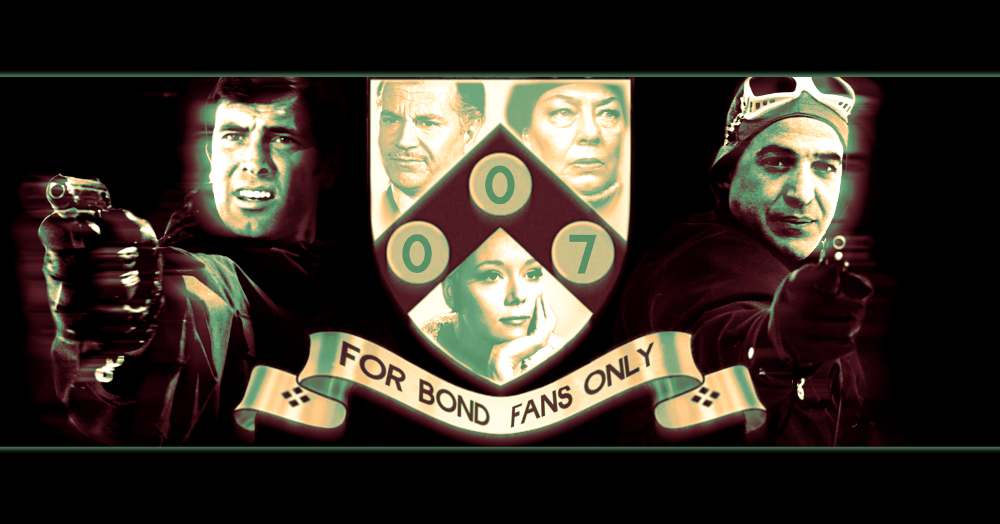 Despite the temptation to take this month's pun literally and have Lazenby in a Santa outfit, I decided restraint was the better part of valour. Instead, Bond's coat of arms, as featured in the film, became the convenient graphic centre for this design. Even more conveniently, the shield's three gold bezants became ideal spots to place a certain three-digit code.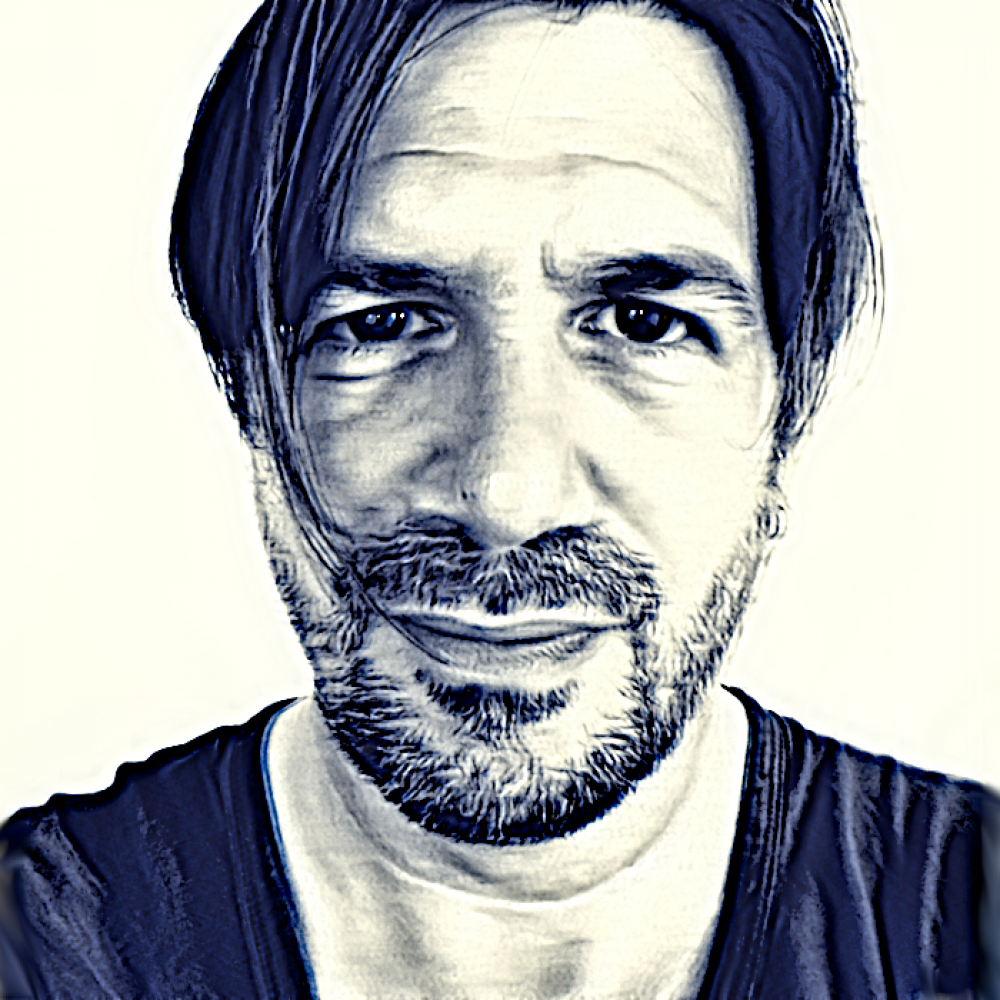 iLaskey
Ian is a life-long film fan, dark fiction writer, electronic musician, and digital artist.